Initial Consultations
We charge a flat fee between $250-495 for an initial consultation with one of our divorce lawyers. The cost depends on the consulting attorney. The consultation lasts between 45-90 minutes. If your consultation goes over 1 hour, you do not owe anything extra.
We are doing virtual consultations/meetings via Microsoft Teams or Zoom, over the phone, or in person. In contrast to other attorneys, we have been doing virtual consultations for years. This allows our attorneys to share screens to discuss financial worksheets or other documents such as tax returns. If you prefer FaceTime, Skype or a simple telephone consultation, we are flexible. To read more about our initial consultations, click here.
We charge for an initial consultation because you will be receiving legal advice. Additionally, once you have consulted with one of us, even if you don't retain us, we may be precluded from representing the other party.
---
---
Factors for Our Divorce Attorney Fees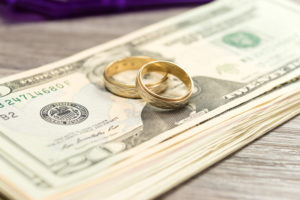 The following are significant factors that determine the cost of your divorce fees:
Do you have minor children? If so, does one parent have plans to move away?
Do you have retirement accounts? If so, how many?
Are you or your spouse financially dependent on the other spouse?
Has there been physical or emotional abuse during the marriage?
Do you or your spouse own a business or professional practice?
Are you or your spouse the beneficiary of family trusts?
Does your net marital estate exceed $2,000,000?
How Much Does it Cost for a Divorce Settlement?
The average cost of a divorce, according to several nationwide surveys, is roughly $20,000 — for each spouse.
With the above in mind, the total fees for us to settle your divorce will range from $7,000 to $12,000 if there are no complicating factors. For a divorce involving children and no complicating financial issues, our fees range from $9,250 to $14,750. If there are no children involved, but you or your spouse own a business and the marital estate is more than $1.5M, the fixed fee will be anywhere between $13,500 and $34,000. For divorces involving high-conflict custody and complex financial issues, our fees will range from $17,250 to $45,000.
The fee schedule above are general guidelines and may vary from your divorce depending on your unique situation. In contrast to other divorce attorneys in Colorado, Kalamaya | Goscha can provide an exact fee that will be fixed through the course of our representation to settle your case.
During these historically crazy and volatile times, you will not have to worry about the uncertainty that comes with hourly fees.
---
---
Bespoke Retainer Structure
What Is A Retainer and Why Do You Charge Them?
We mostly represent clients in family law cases and bill according to how much time we spend on the case. Below are our current rates:
A retainer is an initial payment made to the firm before any legal work begins. Retainers are deposits against future legal fees and expenses. A retainer is helpful for both the attorney and the client because it allows the client to manage how much they spend while ensuring the law firm is paid for the work they do.
Your retainer will be held in trust and once the case ends, any remaining funds returned to you.
We generally offer three levels of representation, which are described below. These levels are based on the client needs and complexities of each situation. Our retainer structure is designed to ensure all clients receive the optimal level of legal representation. In deciding what is best for you, consider the following factors:
Objectives: what does an ideal future look like for your family and you?
Strategy: what legal remedies will most likely realize your vision of the future?
Budget: what resources are you willing and able to dedicate to execute the strategic plan presented to you?
Limited-Scope Representation
If the scope of our representation is limited to consulting with you on your case, the retainer amount is $2,500. This is the DIY option with guidance by one of our Associate Attorneys.
Associate Representation
All day-to-day aspects of your case will be handled by a carefully selected Associate or Senior Associate Attorney with support by an experienced Paralegal. Case strategy, negotiations, attending mediation and contested appearances such as temporary orders, protective orders, temporary restraining orders, depositions, and trials will be handled by your Responsible Attorney. A Partner will provide high-level oversight throughout the duration of your case. Additional partner involvement is available to all clients, at any stage of your case and you will find more information about that below. For Associate Representation we normally require $5,000.
Partner Representation
Case strategy, negotiations, attending mediation and contested appearances such as temporary orders, restraining order, depositions, and trials will be handled by one of our Partners, Ryan Kalamaya, Amy Goscha or Georgina Melbye. The remainder of your case will be handled by a carefully selected Associate Attorney or Senior Associate attorney along with a seasoned Paralegal. For Partner Representation, we require a retainer between $7,500 and $10,000.
Additional Partner Involvement
If you would like to have one of our Partners involved in your case at any stage, we are more than happy to make that happen for you. We require as much notice as possible for additional Partner involvement so we can ensure their time is reserved for you when you need them. Partner involvement is normally reserved for extraordinarily complex and contentious cases. However, our standard of care is consistent throughout the firm and you will receive unparalleled representation regardless of which approach you take.
Hourly Rate
Ryan Kalamaya – $495 per hour
Amy Goscha – $450 per hour
Georgina Melbye – $415 per hour
Elizabeth Hardman– $300 per hour
Leanna Gavin – $275 per hour
Chip Dunn – $250 per hour
---
Fixed Divorce Fees
Upon request, one of our divorce attorneys will provide you with a fixed fee for retaining us to represent you in your divorce. This is based on the specific circumstances of your case as discussed with your attorney.
For a divorce, the fixed fee covers our work to obtain a settlement without engaging in litigation (written discovery, depositions, motions, hearings/trial). This arrangement is suitable in about ninety percent of all cases. Very few cases end up in court.
The fee includes the drafting of a separation agreement, parenting plan (if kids are involved), and other supporting documents. The fee also includes all consultations between you and us, including phone calls, meetings, email, and any other contact. The fee further includes all negotiation between your spouse and our firm.
The estimated fee additionally includes all of the fees often itemized by other firms including postage, fax and photocopy charges. The only additional fees you might incur relate to outside services you elect to purchase such as a real estate appraisal, business valuation and all required QDROs (to divide retirement plans).
Fixed Divorce Fees for Going to Court
Some divorces and family law cases require litigation and going to trial. If your spouse and you cannot reach a divorce settlement, we offer fixed fees for going to court.
For example, we will agree on a set amount for a half- or full-day hearing. The fixed fee will cover all work preparing for the hearing, including meetings, phone calls and emails with your attorney, witness interviews, legal research, organizing and endorsing exhibits, and the time in court at trial.
Our clients appreciate knowing how much filing a motion, taking a deposition, engaging in mediation or going to trial will cost ahead of time. To find out the cost of our divorce attorneys to go to court, please call to schedule a consultation.
Billing Practices
Billing cycles are monthly and sent via email unless you specifically request otherwise. Through our client portal you will be able to access all bills for your matter. We accept credit cards for outstanding bills.
In addition to our time spent working on your behalf, you are responsible for the cost of filing motions or other legal documents with the court, witness fees, deposition transcripts, experts, outsourced copy costs for hearing exhibit binders and non-routine postage.
We will not charge for long-distance phone calls, normal copies, faxes or meals – those are simply the cost of doing business. We do not nickel and dime our clients.