If you are considering a divorce, understanding the role of your divorce lawyer and setting realistic expectations is key to getting the most out of their services. It is important to ask the right questions before making a final decision on legal representation. In this blog post, we'll go through some important steps to take before hiring a divorce lawyer so that you can make sure you're getting the right help to find a good divorce lawyer near you.
What Does a Divorce Lawyer Do?
A divorce lawyer will advise you on all aspects of the divorce process, including the division of assets and debts, child custody, visitation rights, spousal support (or alimony), and other related matters. They will also provide legal representation during court proceedings if necessary. When deciding what type of attorney to hire for your case, consider whether or not you need an attorney who specializes in family law or one who has experience with more complex cases involving high-net-worth individuals or business owners.
Questions to Ask a Divorce Lawyer Ahead of Time
Before hiring a divorce attorney for your case, it is important to ask as many questions as possible about their experience and qualifications. Be sure to ask about their experience dealing with cases similar to yours and what kind of results they have achieved in past trials. Additionally, ask about how they handle communications and billing procedures so that you know exactly what to expect from the start. It is also advisable to do some online research on prospective attorneys before hiring them to get an idea of how they approach cases similar to yours.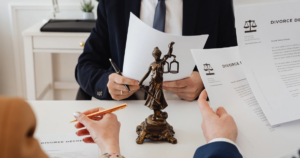 Seeking Recommendations for Divorce Lawyers
It can be helpful to talk with family members or friends who have gone through a divorce to get first-hand recommendations for potential lawyers. Even if you don't end up going with their recommendation, it can help give you an idea of what kind of services are out there and what kind might be best suited for your case. You should also take into account any red flags that come up during interviews with different attorneys as these could indicate potential problems down the line. Finally, while budget should be taken into consideration when looking for a lawyer, it is also important that you feel comfortable working with the person representing you—so trust your gut!
In sum, before retaining a divorce lawyer you must understand their role in the process and set realistic expectations for them ahead of time. Doing some online research on top divorce lawyers near you, as well as asking questions specific to your case can help ensure that you find someone who understands your situation while still staying within your budget range.
Additionally, talking with family members or friends who have been through a divorce may give insight into which lawyers are best suited for certain types of cases as well as any potential red flags from certain firms or individuals. Finally, once you've found someone whose qualifications match up with what you require for your case—as well as someone who feels right—you can move forward confidently knowing that all bases are covered!
If you would like to contact one of our divorce attorneys about possible representation, give us a call at 970-315-2365.
Kalamaya | Goscha
Average rating:
0 reviews